Thank you for taking the time to visit our website! It's easy to find the equipment you want.
Eastern Wrecker Sales Inc was established in 1969 and is still owned by Billy Kornegay and Worden Price. Our goal is to provide the best towing & recovery equipment available today with professional, courteous sales and service. Give us a call at 919-553-4038!
Today, Eastern Wrecker Sales Inc is the oldest distributor in the nation of the fine rollbacks and wreckers manufactured by Jerr-Dan, an OshKosh Corporation company. We are also proud distributors of the Landoll line of transportation products, trailers tough enough to move the world.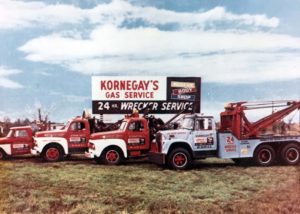 Find your new truck or trailer today — see our ready to roll new Jerr-Dan carriers or rollbacks, new Jerr-Dan wreckers or tow trucks, and new Landoll trailers for sale. And take a look at our large inventory of used Jerr-Dan wreckers or tow trucks, used Jerr-Dan carriers or rollbacks, and used Landoll trailers for sale. We also offer equipment of many other brands for sale: Century, Champion, Holmes, Vulcan, Challenger, Eagle Claw, NRC, Dynamic, Chevron, Zacklift, Recovery Solutions, and more. We offer everything from small self-loading wheellifts to big hydraulic wreckers, car carriers, and industrial carriers with 15-tons of capacity and more. If you are interested in towing and transport equipment, you are in the right place!
We offer financing and leasing for our customers. We work every day with a wide range of lenders and lease companies to provide our customers with the best finance arrangements available.

Please use the links above or the menu to find the new or used wreckers, tow trucks, carriers, rollbacks or trailers you want to see. We also have Jerr-Dan parts & user manuals, Landoll parts manuals, Landoll user manuals, and Ramsey parts manuals posted.
So — why buy from Eastern Wrecker Sales Inc?
We can give you the best price.
Yes, we're famous for selling fancier trucks with more toys and bigger price tags, but we also specialize in plain vanilla and chocolate.
Want a 22' Jerr-Dan on a new Kenworth with high horsepower, the best trim level, and all the toys? We've got that. Usually in stock, ready to go.
Need a workhorse Jerr-Dan carrier on a chocolate or vanilla chassis at a low price? We've got that, too. Also usually in stock, ready to go.
We put it together right.
You know these things come in pieces, right? This isn't like buying a pickup truck— those things roll out of Ford or Dodge or GM already put together. In our world, there's the truck chassis-cab, then there's the body, and then there are all the toys that go on them.
Somebody has to put it all together, and not everybody does that the same. It's not just a few bolts and plugging in some lights — we're talking real welding, power take-offs, routing hydraulic lines, weather connectors on the wiring, and getting all of this to work with the onboard computer.
Building a new carrier or wrecker right is not easy, and you don't want just any jack-leg doing it. (And there are plenty of jack-legs out there doing it. No offense to the jacklegs of the world, but let those guys paint your toolshed or clean up your scrap metal. Don't let them build your new Jerr-Dan carrier.)
We build it right. Then we check it over a second time. And if we do miss anything, we're right here to fix it. Which leads us to…
Experience.
We've been doing this since 1969, with the same owners the whole time.
We've been operating in this same location, in the same buildings, under the same corporation, since 1979. We're not planning on going anywhere.
If you need to find us, you'll know where we are.
Financing.
We try to make it easy, and we work with banks who will treat you right. Good lenders offering good finance rates—lenders we trust and who will not nail you to the wall.
There's no shotgun approach. We don't send your credit information all over the universe. When you send us your application, we look at your credit right here first, then we match your credit profile to one or two of our best lenders.
We make it simple. None of it is as fast as buying a new Honda — buying a commercial truck puts you in the world of commercial lending, which typically takes a day or two and may require more information like bank statements — but we make it simple.
You'll like us.
Really. It's hard to like everybody you meet these days — shocking, we know — but we'll be nice to you. We'll listen to you.
We'll help you with your purchase, and we'll do it in a timely and professional and courteous manner. These days, we're not finding as much courtesy and professionalism out there — in any field, from selling french fries to doing brain surgery.
You will find courtesy and professionalism here.
We really have the truck we say we have.
If we say your truck is here and available, it really is. Here on the ground, our people keep track of which units are sold and which ones are ready to go.
We also try to keep the website accurate to within a day or so of reality. Of course, reality isn't what it used to be, so there will be errors on occasion.
We do special orders. If you need something special, or a different color, we'll order it for you. We have always done a tremendous amount of special order business, ranging from special colors or special options all the way up to large industrial carriers and equipment for corporate and government agencies. (No, we can't tell you which agencies, or if we did…well, you know how that ends up.)
If we can get you what you want, and do it well and safely, then we will.
You'll get what you're promised.
Many of our customers come from far away, driving or flying here from the Western US, the Northeast, all over the country and Canada. When we ask them why they come so far when other trucks were available closer to them, the answer we get most often is, "We felt like we would get what we were promised." Wow. At Eastern Wrecker Sales, we've always viewed that as a given — we always make sure our customers get what they were promised, and a little bit more.
You'll get what you were promised. And we'll make sure you get a little more to go with it.